"The new Nano features a much larger two inch 320x240 (QVGA) display which is 65% brighter than the previous generation and can play H.264 videos. An all new UI with Cover Flow is used.
It can deliver up to 24 hours audio playback and 5 hours video playback on a single charge.
The design is all metal, anodized aluminum and brushed stainless steel. Its a bit slimmer and wider than the old one and it will be available in silver, black, blue, green and a red special edition."
(iPhone look-alike, might as well go get an iPhone better)
The iPhone-esque iPod Touch has a 3.5 inch widescreen, Wi-Fi for internet connectivity and synching.
A mere 8mm thin, the stylish iPod Touch strongly resembles the iPhone. Like its big brother it uses the multi-touch UI and can surf the net and play YouTube video using the Safari browser.
Source:
http://www.hardspell.com/english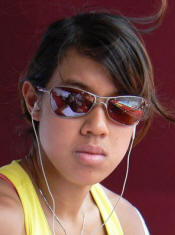 Nicol David on iPod